Making Memories to Last a Lifetime
Fri, 17 Aug 2018 14:12:00 GMT
Soldiers at Fort Carson in Colorado welcomed 11-year-old Carson Raulerson, who was born with Knobloch Syndrome, a rare progressive degenerative disease that causes most people with it to lose their eyesight before they turn 20.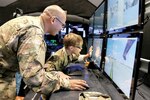 U.S., Argentina Agree to Strengthen Military Relationship
Thu, 16 Aug 2018 17:01:00 GMT
The United States and Argentina are in agreement about the security situation in South America, and the countries are looking to increase military-to-military ties, Defense Secretary James N. Mattis told reporters.

Mattis, Argentine Defense Officials Meet in Buenos Aires
Thu, 16 Aug 2018 16:01:00 GMT
Defense Secretary James N. Mattis and top Argentine defense officials reaffirmed the long-standing defense relationship between the United States and Argentina during a meeting in Buenos Aires.

Guardsmen Bring Combat Skills to Fighting Western Fires
Thu, 16 Aug 2018 15:15:00 GMT
Representatives from the California Army and Air National Guard discussed the National Guard's role during the California wildfires and described how combat skills are enhancing firefighting efforts during an update to reporters at the Pentagon.