U.S. Service Members Train With Djiboutian Military Partners
Tue, 23 Jan 2018 17:55:00 GMT
Soldiers assigned to Combined Joint Task Force-Horn of Africa's communications directorate trained with Djiboutian service members during a military-to-military exchange of best practices at Camp Lemonnier, Djibouti.

Soldiers Test New Modular Handgun System at Fort Polk
Tue, 23 Jan 2018 17:08:00 GMT
Soldiers from 1st Battalion, 1st Security Forces Assistance Brigade familiarized themselves and qualified with the XM17 handgun at the Joint Readiness Training Center, Fort Polk, Louisiana.

New York Guardsmen Prepare for Flooding
Tue, 23 Jan 2018 13:29:00 GMT
New York National Guardsmen have been activated to prepare for potential flooding in upstate New York ahead of expected higher temperatures and rain.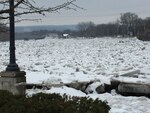 Face of Defense: Marine Credits Career to Associations During Upbringing
Tue, 23 Jan 2018 13:15:00 GMT
As the clock ticked away on her senior year of college, Brietta Larmon knew she had little time to decide what was next. She needed a pursuit that would fit her outgoing personality and military background. By the end of her senior year, she found exactly the adventure she was looking for: the thrill of flying.

Shutdown Affects Quality of Life, Family Readiness Programs
Sat, 20 Jan 2018 05:51:00 GMT
The government shutdown that began at midnight will affect the operating status of quality of life and family readiness programs offered by the Defense Department to service members and their families, Pentagon officials said.

Mattis Issues Guidance As Federal Government Shuts Down
Sat, 20 Jan 2018 05:51:00 GMT
The Defense Department will continue its mission to defend the people of the United States, American allies and U.S. vital interests around the world during the government shutdown, Defense Secretary James N. Mattis said in a memo.